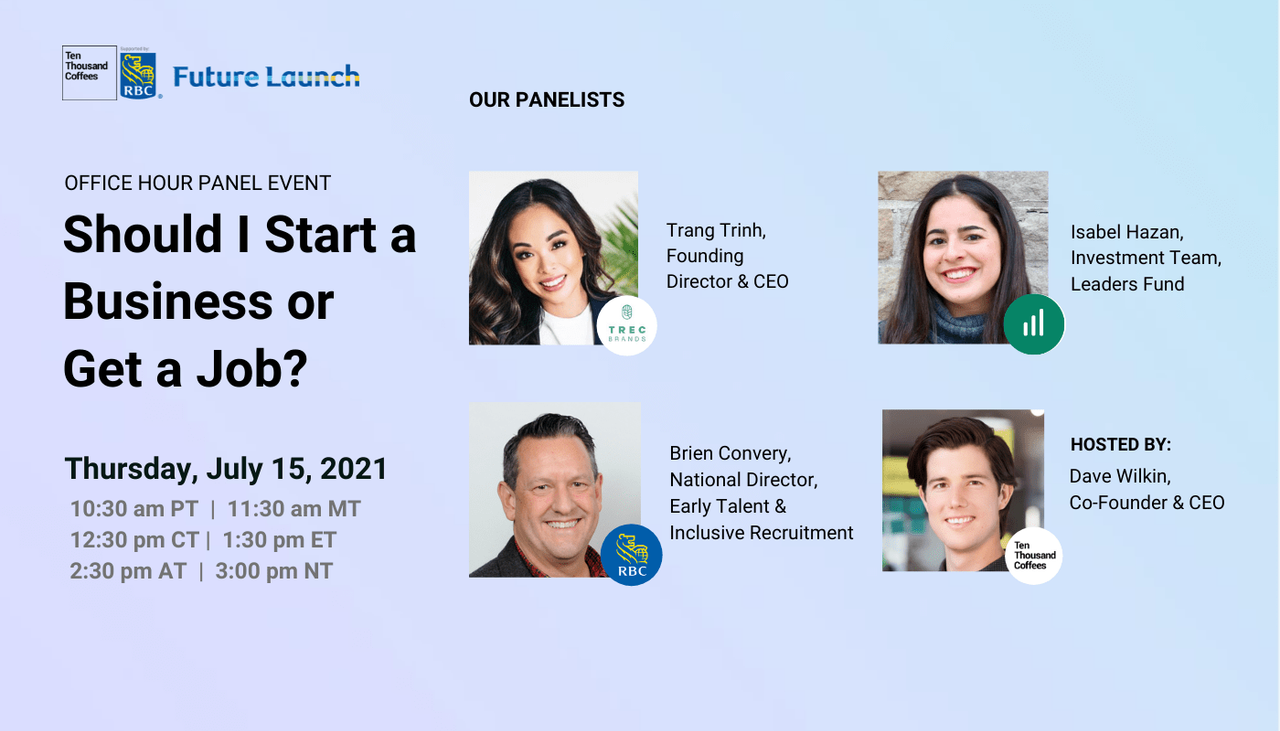 You're invited! Ten Thousand Coffees is hosting a panel discussion on July 15, 2021 at 12:30 p.m. CT to answer the age-old question so many of us have asked ourselves: should I get a job or start my own business?
Let the great debate begin! Join Ten Thousand Coffees for an exciting discussion to help you decide if you should go out on your own or accept that job offer. Whether you're navigating your next steps as a fresh graduate, or you've always wondered if starting a business and being your own boss is the right move, you'll get a chance to hear from a group of experts who will weigh in on the benefits and challenges of either option.
Ten Thousand Coffees CEO Dave Wilkin will chat with an entrepreneur, a venture capitalist, and an early career leader for their take on this debate. The event is free and open to all Red River College students and alumni. Whether you're already a member of the Red River College Café or new to our mentoring and networking platform, you're invited to listen in and ask questions!
Why join?
You'll hear from both sides of the table to find out if entrepreneurship is for you
You'll learn about what it takes to start your own business, how the tech sector has contributed to entrepreneurship, and what trends we can expect to see in this industry
You'll have the opportunity to ask panelists your burning questions in a Q&A to help inform your own decisions about your future
You'll be able to network with hundreds of students and alumni from across Canada
Don't miss this exciting panel discussion hosted by Ten Thousand Coffees.
---
Panelists include:
Entrepreneur: Trang Trinh, Founding Director & CEO of TREC Brands
Venture Capitalist: Isabel Hazan, Investment Analyst at Leaders Fund, a venture capital firm based in Toronto
Early Career Leader: Brien Convery, National Director, Early Talent Communities and Inclusive Recruitment at RBC
Moderator:
Dave Wilkin, Ten Thousand Coffees CEO
---
For more mentoring and networking opportunities, join the Red River College Café, powered by Ten Thousand Coffees.