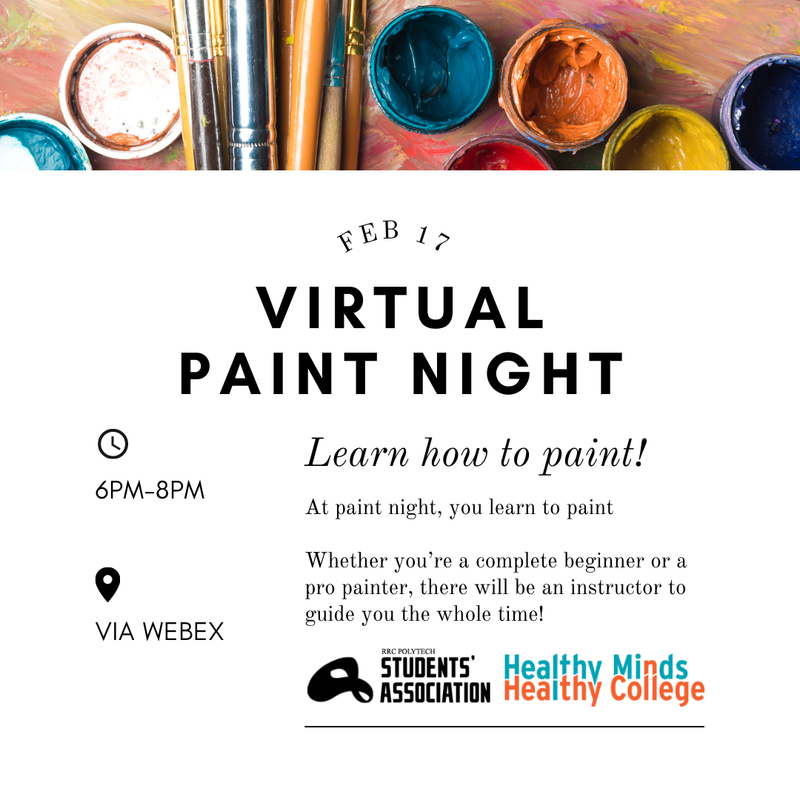 Join the RRC Students' Association and Healthy Minds Healthy College for paint night! We're bringing back monthly paint nights due to its popularity last year!
What is Paint Night?
Paint Night has become very popular in the last couple of years, but if you've never been to paint night before, you may find yourself wondering what it is! At its core, paint night is a creative way to hang out with your friends and create a masterpiece!
You Learn to Paint
At paint night, you learn to paint. Whether you're a complete beginner or a pro painter, there will be an instructor to guide you the whole time! Everyone in the class is working toward creating their own version of the same painting. The teacher will lead you through your painting step-by-step. Our paint nights last two hours.
It's Therapeutic
Painting is really good for you! Paint night is great for people who love to try new things, meet new people, and explore new sides to themselves.
Bring Your Own Supplies
• Three paintbrushes (large, medium, and small)
• Any size painting canvas (12″x16″ is the average size)
• Acrylic paints (all primary colors)