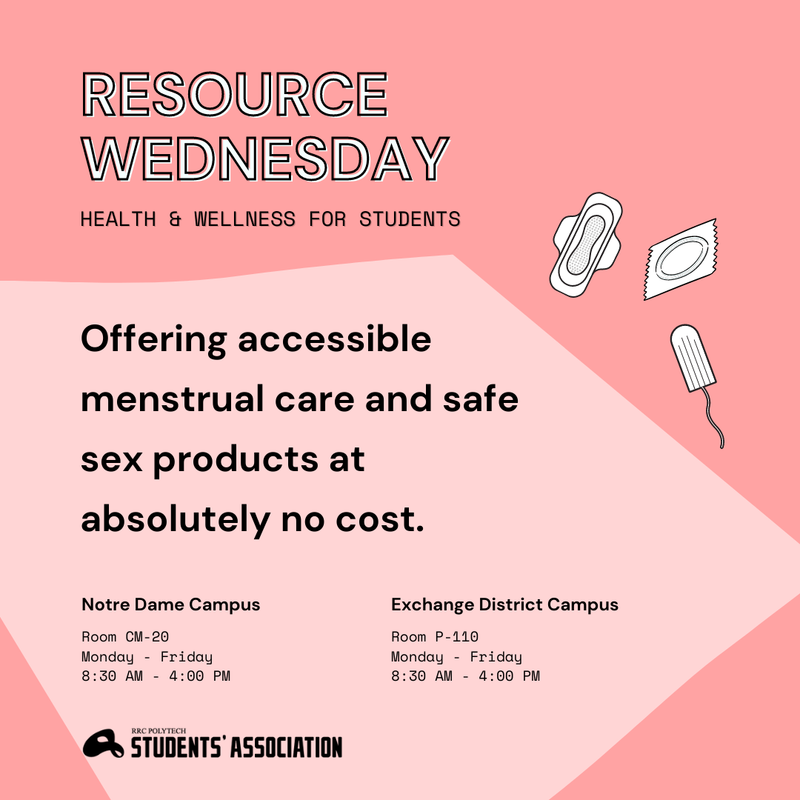 The RRC Polytech Students' Association offers accessible menstrual care and safe sex products at absolutely no cost!
The Initiative
One in three Canadians who need tampons, pads, and/or condoms struggle to afford them. Menstrual care is a basic need, while condoms can prevent incurable infections and diseases. This initiative is to stop the stigma around these topics, and put an effort to decrease its financial burden.
Locations
RRC Polytech students can find free pads, tampons, condoms, female condoms, and lube in our two offices:
Notre Dame Campus — 2055 Notre Dame Ave. 
Room CM-20
Monday-Friday
8:30 AM – 4:00 PM
Exchange District Campus — 160 Princess St.
Room P-110
Monday-Friday
8:30 AM – 4:00 PM
Due to COVID-19 restrictions, RRC Polytech only allows those who are fully vaccinated to be on-campus.
Student Insurance and Benefits
As an RRC Polytech student, you have insurance coverage with MyStudentPlan (unless you have opted out). Visit the official website to learn more about how you can use your insurance towards health concerns, prescriptions, contraception, and other health-related services.
Questions regarding your student plan should be directed to redriverplan@mystudentplan.ca
Clinic Finder
Use this clinic finder website to find a clinic in Winnipeg near you. Simply type in an address, and narrow down by day of the week and by service.
Enter to Win!
Valentine's Day may be over, but that doesn't stop the spread of STIs! Love is the only thing you should be spreading.
Enter your information below for a chance to win a safe love gift basket for you and your partner (or your amazing self)! Gift basket includes: condoms, lube, an adult toy, adult playing cards, and dirty dice.
Winner must be able to pick up their prize at the RRC Polytech Notre Dame Campus.
FORM COMING SOON