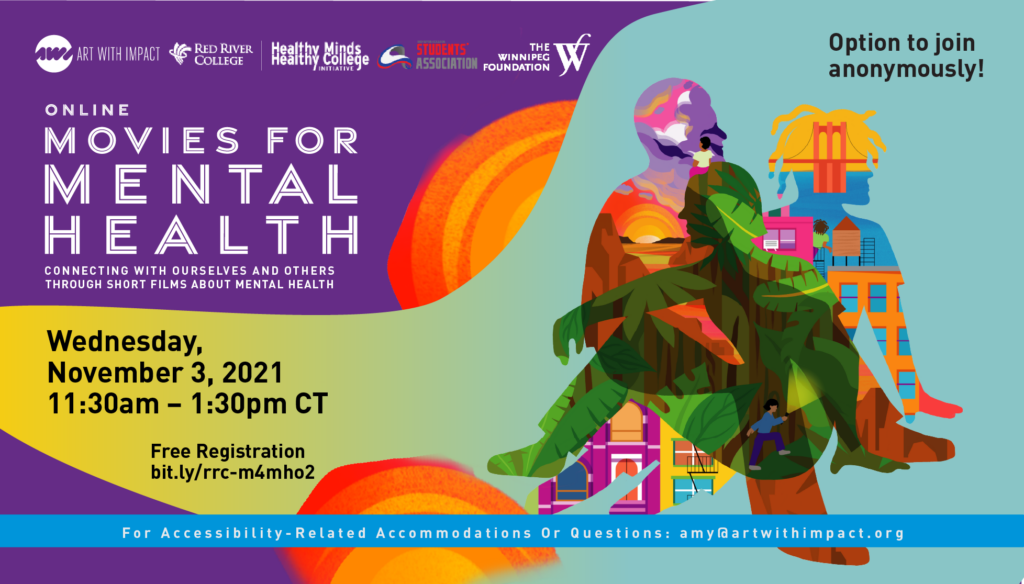 On November 3rd, RRC Polytech is hosting Movies for Mental Health, a virtual workshop that uses the power of film to unite folks in community, connection, and conversation.
This FREE event is delivered by a non-profit called Art With Impact and will be hosted online.
The interactive experience will feature a chat-based discussion on mental health, the stigma that frequently surrounds mental illness, and media portrayals of mental health issues.
Following this will be a live screening of three award-winning short films and therapeutic activities to consciously connect minds and bodies.
The event will culminate in a panel of lived-experience speakers and mental health resources, empowering us to share our own stories and access support available to us in these uncertain times.
Students who attend and complete the post-event survey will be able to enter to win a prize! The winner of the prize draw will be able to choose between:

– One 90 minute float at Float.Calm (a $69 value), OR

– A $50 gift card to GoodLocal
Last year, students who attended found the workshop helped increase awareness of mental health, reduce stigma, and improve knowledge about where to go for help.
The Details
Date: Wednesday, November 3
Time: 11:30 am-1:30 pm
Location: Online! Register here.
This event was originally scheduled for October 7th, but due to technical difficulties it was rescheduled to November 3rd.
For any questions or accessibility needs, please contact Breanna.
This event is sponsored by Healthy Minds Healthy College and RRCSA. All students and staff are welcome.