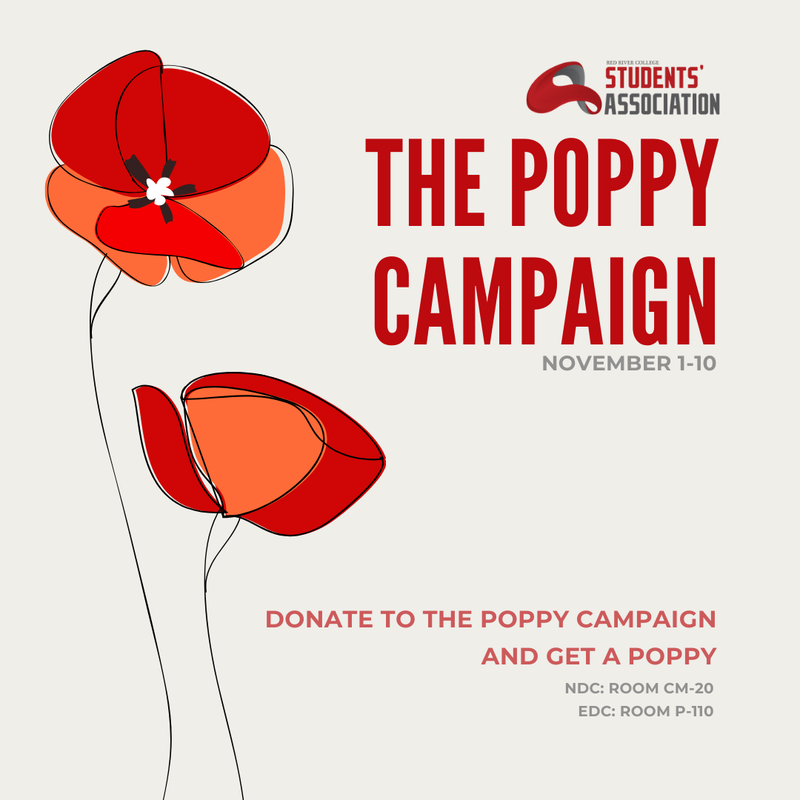 Why Do We Wear Poppies During Remembrance Day?
In the days leading up to Remembrance Day on November 11, you will see people on the TV and in the streets wearing a poppy. The reason poppies are used to remember those who have given their lives in battle is because they are the flowers which grew on the battlefields after World War One ended – this is described in the famous World War One poem In Flanders Fields.
Ever since then, they have come to be a symbol of remembering not just those who gave their lives in World War One, but all those who have died on behalf of their country.
The Poppy Campaign
The Poppy Campaign is a local initiative, conducted by Legion Branches in cities, town and communities across Canada. Donations collected during the Poppy Campaign are held in Trust at the branch level to directly support Veterans and their families within their community and to help ensure Canadians 'never forget.' Learn more about how your donation helps Veterans.
RRC Students' Association Accepting Donations
For the first time ever, the Red River College Students' Association is partnering with the Royal Canadian Legion. We will have a poppy box on-campus at our Notre Dame office in room CM-20, and the Exchange District office in room P-110, accepting donations in exchange for a poppy from November 1 to November 10. 100% of donations will be given back to Canadian Veterans.
Other Ways to Get Involved
The Royal Canadian Legion thanks all Canadians for supporting the Poppy Campaign. Of course, there are many other ways to show your support if you cannot make it to our offices.