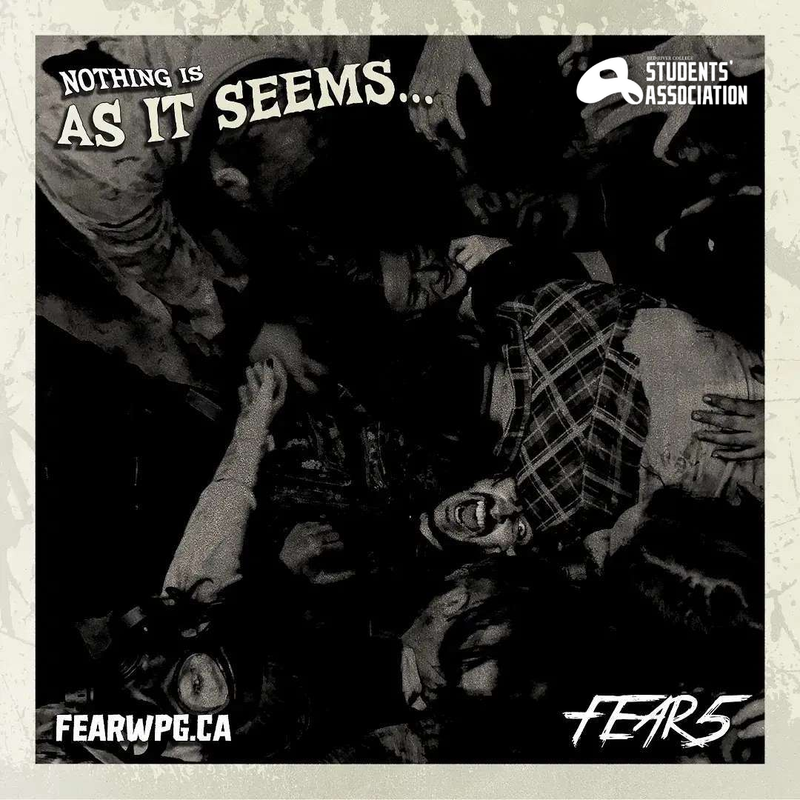 Will you and your friends make it out in time or will you be eaten alive…?
The RRCSA is giving away not one, but two(!) pairs of tickets to FEAR 5 – a terrifying horror attraction right here in Winnipeg.
How do I enter?
To enter, all you have to do is:
be a current RRC student

confirm you are able to attend the date and time on the tickets

go to our instagram and comment on the fear5 giveaway post
The Tickets
We have two separate pairs of tickets being given away – two tickets for each experience:
Pair #1
Blind
October 31, 8:00 PM – 9:00 PM
Blind takes on the popular horror film, Bird Box. You and your team will enter an unpredictable space blindfolded while psychopaths and the enlighted torment you. Navigate the area using ropes, bells, and feeling out the space around you. Don't take your blindfold off no matter how much the whispers try to convince you. If you do… GAME OVER! 
This experience includes being blindfolded and scared in numerous ways with a flooring surface that is at times, uneven. You will need to rely on your other senses to make it to the end.
Pair #2
The Cure
October 31, 9:00 PM – 10:00 PM
Don't make a sound! In this nail-biting, suspenseful horror experience, you become the lead actor in your own zombie film with this truly immersive experience. Can you creep throughout the shanty house without awakening the flesh-eating zombies or will the small sound you accidentally make awaken the z's? Climb, crawl, run… but DON'T SCREAM!
There is some physicality involved with this experience. You will get dirty and be touched. This experience includes crawling, stairs, tight spaces, strobe lights, physical contact, and bloodwork. Unfortunately, this experience is not wheelchair accessible.