Anti-Racism Speaker Series: Dr. Leela Viswanathan
You're Invited – Sharing Experiences and Strategies for Effectively Addressing Racism in Post-Secondary – Featured Expert and Virtual Panel Discussion
To combat racism, we must address racism in all forms and in all areas of our daily lives. How can you help? It's simple. Listen, learn and act. 
Join RRC Polytech's Anti-Racism Committee for the first in a four-part speaker series featuring champions of equity, diversity, and inclusion in a post-secondary setting, accompanied by a moderated panel discussion designed to inspire change.
Keynote speaker, Dr. Leela Viswanathan, an award-winning educator and anti-racism advocate, will introduce several themes – accountability, practices to address bias, and ways to support the journey of all students to see them flourish.
A panel representing RRC Polytech's senior leadership team, distinguished alumni, and the student body will join the discussion to share their experiences and suggestions and respond to your questions. 
Event Details
Date: April 14, 2022 
Time: 12–1pm CST 
Host: RRC Polytech Anti-Racism Committee 
Registration Deadline: April 14, 11:30am
SPEAKER
Dr. Leela Viswanathan, PhD, RPP, MCIP, Viswali Consulting
PANEL
Jamie Wilson, Vice-President, Indigenous Strategy and Business Development 

Kyra De la Ronde, Student, Social Innovation and Community Development

Jackie Wild, President, Manitoba Filipino Business Council – Senior Community Investment Manager, TELUS – RRC Polytech Graduate, Creative Communications 2013                       
MODERATOR
Ginger Arnold, Instructor, Social Innovation and Community Development 
Note: If you have a specific accessibility request, please contact fcreta@rrc.ca. For all other questions, please contact diversity@rrc.ca.
If you have technical difficulties when logging on to this Zoom event, please contact fcreta@rrc.ca or text 204-291-0788.
Speaker Panel Biographies
Dr. Leela Viswanathan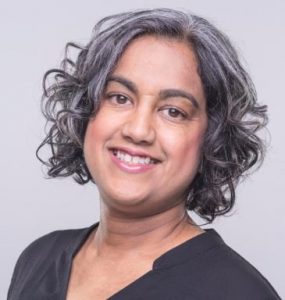 Dr. Leela Viswanathan is Founder and Principal of Viswali Consulting, a firm that focuses on human-centred policy and planning and design for systems change. Leela has a lifelong commitment to promoting the rights and needs of racialized and other equity-seeking communities, and to learning about, and acting upon her treaty responsibilities and accountability as a settler on Indigenous lands.  
Dr. Viswanathan has over 20 years of experience in the not-for-profit and government sectors, and in academia. As an enterprising scholar, she spent over a decade as an award-winning university teacher and qualitative researcher in urban planning and geography. Equity, diversity, and inclusion informs all of her work. 
Dr. Viswanathan is an Adjunct Associate Professor in Geography and Planning at Queen's University and in 2017 she was the recipient of the Association of American Geographers' Diversity and Inclusion Award for her commitment to decolonizing urban planning and practice and for her advocacy in accessibility in university teaching and learning. She earned a PhD in Environmental Studies and an MES (Planning) from York University (Toronto) and a BA (Sociology) from McGill University (Montréal). She is a Registered Professional Planner (RPP) in Ontario and was inducted into the College of Fellows of the Canadian Institute of Planners in 2021.  
Dr. Viswanathan is the daughter of immigrants from India. She is proud of her strong familial roots and draws from her experiences of immersing herself in languages and cultures, and navigating through them, to inform her work in planning and community building.
Jamie Wilson
Jamie Wilson is the Vice-President of Indigenous Strategy and Business Development at RRC Polytech. With a background as a Deputy Minister (Growth, Enterprise and Trade; Education), educator, a member of the 75th Ranger Regiment, an Infantry officer and as Manitoba's Treaty Commissioner, Wilson is uniquely positioned to lead this new portfolio. 
Proudly hailing from the Opaskwayak Cree Nation, Wilson is a visionary leader with a passion for building bridges between communities and organizations, strengthening relationships with Indigenous Peoples, and creating opportunities for community and social development that will lead to economic opportunity and prosperity. 
His professional and personal experience will help guide RRC Polytech on its journey to make meaningful progress towards the TRC Calls to Action and economic reconciliation through increased partnerships with Indigenous students, businesses and communities.
Kyra De la Ronde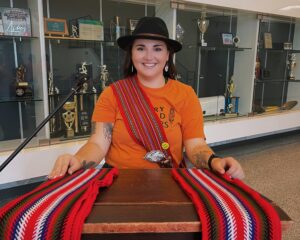 Kyra De la Ronde is a young Métis woman born within the heart and homeland of the Red River Métis and raised in Selkirk. A student in the Indigenous School of Education at Red River College Polytechnic – Kyra will be completing her diploma program in Community Development in the spring of 2022 and is eager to begin her professional career and continue to proudly represent her Nation. 
Kyra has represented the Infinity Women Secretariat as the youth representative for the Interlake Regional Youth Advisory Committee since 2018. In the summer of 2021, Kyra was selected to be the chairperson of the Manitoba Métis Federations Provincial Youth Advisory Committee. 
She passionately focuses on Indigenous youth empowerment, Indigenous economic Reconciliation, and promoting and ensuring the business sector is a diverse and inclusive space.
Jackie Wild
Jackie Wild is a seasoned communications and marketing professional with over a decade of experience managing successful community-focused initiatives within the public, private and non-profit sectors. As a racialized woman from the Filipino/a/x community, she understands the critically important role of anti-racism advocacy in achieving inclusive and equitable outcomes.
A champion of community building, Jackie serves as the President of the Manitoba Filipino Business Council leading their vision to serve as the prime community resource hub for Filipino/a/x businesspeople and professionals. Through grassroots outreach across the province, they are building a sustainable future for the next generation of local leaders by creating an inclusive community through consultation and collaboration. 
A passionate leader in community and civic engagement, Jackie volunteers as Community Engagement Chair of the Manitoba 150 Host Committee and as a board member with the Manitoba Museum and Health Sciences Centre Foundation. In 2020, Jackie was named one of CBC Manitoba's Future 40 recipients and featured on the Filipino Journal's 20 Filipinos to Watch list.